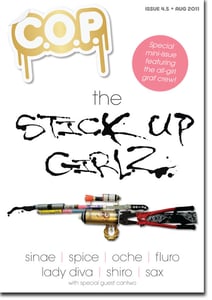 $

10.00
FREE WORLDWIDE SHIPPING!*
C.O.P. Magazine is proud to present Issue 4.5: The Stick Up Girlz.
An all-girl, all-graf special issue featuring SINAE, LADY DIVA,
OCHE, FLURO, SAX, SHIRO and SPICE. Includes an introduction by CANTWO.
48 Pages | Full Colour | A5
*Free shipping applies to this item only. Usual postage charges will apply for other items in order.